Broad-Wall Multi-Hole Directional Couplers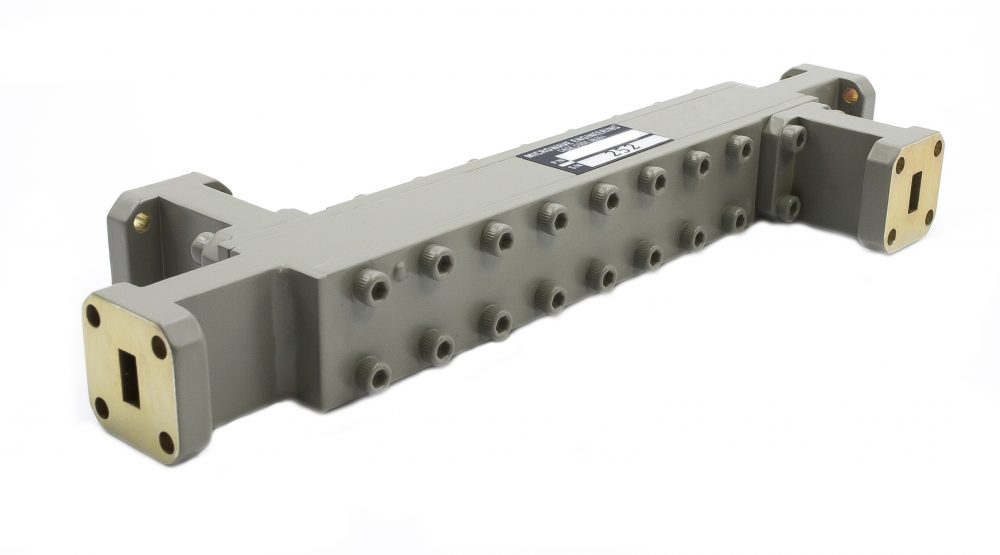 M.E.C.'s broad-wall multi-hold directional couplers consist of rectangular waveguide primary and secondary lines with a common broad-wall where high directivity coupling is achieved over the full waveguide band by a Tchebyscheff multi-hole coupling structure and a precision termination in the secondary arm.  Waveguide cover flanges are provided on the main line while secondary lines are available with either cover flanges or coaxial connectors.  Both single directional (160 Series) and dual directional (200 Series) couplers are optimized to balance electrical performance with a compact design.
These couplers are ideal in reflectometer set-ups to measure VSWR's as low as 1.04:1 over full waveguide bands.  They are also well suited as samplers in leveling loops or as power dividers and combiners.  Aluminum units are chromate conversion finished per MIL-C-5541, Class 3, while all other units receive corrosion-resistant coatings.  All units are painted with gray epoxy enamel on external, non-mating surfaces.
High Directivity
Flat Coupling
Waveguide or Coaxial Ports
Specifications
Directivity                 40 dB Min.                         VSWR  1.05 Max., Main Line
Coupling                   10, 20, 30, 40, 50, dB                     1.10 Max., Waveguide Secondary
Coupling                   ±0.4 dB                                           1.35 Max., Coaxial Secondary
Frequency Sensitivity                                    ±0.5 dB Max.

    * For dual 10 dB couplers, two single couplers are used back to back resulting in D =2A
  ** Aluminum
*** Contact M.E.C. for A160/A200 dimensions
Order and Sales Information
(1) Order by model number (the default model numbers above are for E-Plane style). Add a suffix "-H" to the model number for the optional H-Plane coupled arm versions. Add an additional suffix as follows to designate coupling level:
"-10" for 10 dB / "-20" for 20 dB / "-30" for 30 dB / "-40" for 40 dB / "-50" for 50 dB
(2) To specify coaxial secondary add the following suffix:
"-3" for SMA female / "-T" for TNC female / "-N" for type N female / "-7" for precision 7 mm / "-k" for 2.9 mm / "-2.4" for 2.4mm
Refer to Coaxial Connector Data Sheet for a full listing of available connectors and specs.
(3) Other coupling values from 3 dB and up are available. Over-all length may vary.
(4) Other frequencies, directivity, style, and power options are available.  All customer designs are welcome.