Sidewall Directional Couplers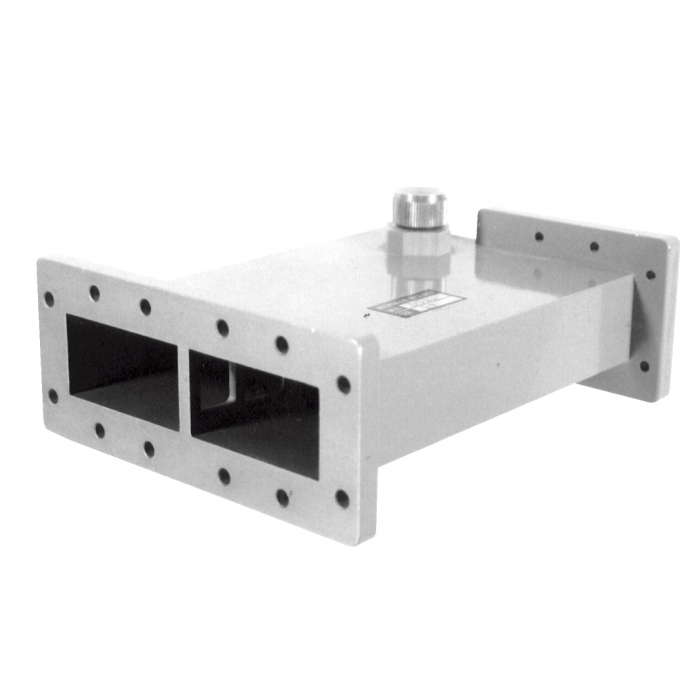 M.E.C.'s 500 Series ultra-flat sidewall directional couplers are developed for standard communication frequency bands with weaker coupling values. The couplers are aluminum three-port devices and have been designed to minimize length as well as provide an extremely flat level of ± 0.1 dB coupling.
Directivity is maintained at 20 dB minimum while VSWR is less than 1.06:1. Standard coupling values are 10, 20 and 30 dB nominal (± 2 dB). Other values or custom designs are available on request between 2.4 and 30 dB over a wide choice of frequency ranges. Finish is chromate conversion per MIL-C-5541, Class 3, and painted with gray epoxy enamel.
Ultra-Flat Coupling
High Isolation
Wide Coupling Values
Order and Sales Information
(1) For other coupling values, specify as follows:
Designate the band by letter.
Insert "5".
Insert coupling value desired.
EXAMPLE: J517M is a 17 dB nominal (± 2 dB) coupler in WR137 waveguide, with flatness ± 0.1 dB, operating over the 7.25 – 7.75 GHz band.
(2) For exact coupling values, please specify.
(3) Termination may be placed in opposite wall if desired.
(4) Please contact M.E.C. with your specific requirements.  All customer designs are welcome.